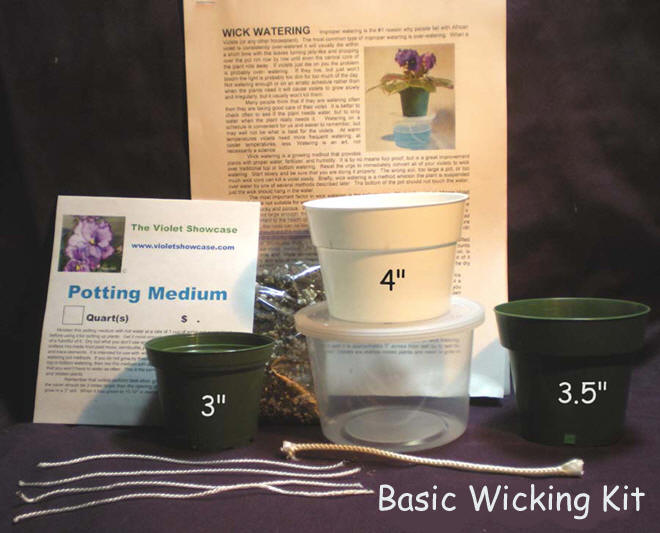 Basic Wicking Kit: All the materials needed to try the wick watering method on just one violet. Wick watering uses a nylon cord inserted part way up into the soil of your plant through one of the drainage holes. The wick, by capillary action, slowly pulls water from the wicking container up into the soil. Only the wick touches the water.
Includes three different sized plastic pots – 3", 3 ½ ", and 4" (now brown) so that you can try wicking on a young violet or a mature one. The greater the diameter of your violet, the bigger the pot you would use. Two different wick sizes also included. The thinner wick cord is for the 3" or 3 ½ " pots; the thicker cord is for the 4" pot.
Sufficient Violet Showcase Potting Medium is included to fill the 4" pot (or the 3", or the 3 ½ ", but not all three).
Also included is a 4 page set of detailed instructions explaining with photos how to set up and grow a violet using the wick watering method.

Basic Wicking Kit Item #841, $5.69 includes shipping;
Item #841A, $2.59, if sent with other items.

Go back to the Home Page

Go to the next Special Offer

Return to the Special Offers page